This month is insane.  Between the two of us, either one or both of us is out of town for 15/30 days this month.  Crazy.  This past week we had the opportunity to go to Shoot with Beckstead in Santa Barbara and then we were in San Diego right after.  While we were in Santa Barbara, my sister had her baby!  I am so excited to be an auntie!  So… this morning at 4am, Donny dropped off our daughter and me at the airport and we flew up to Washington, which is where I am at now.
Let me just throw out some information — traveling by plane with a toddler — by yourself — is a task for only those who are a bit looney.  Seriously, what was I thinking?  Since I am planning on doing a photo shoot of my new niece, I had one shoulder bag on one shoulder full of camera gear, another bag on the other shoulder for my laptop and assorted diaper bag items mixed in (both really heavy bags).  On my hip I had our daughter who just "couldn't" go without her "green blankie".  Add to that a huge bag containing our little one's car seat which I basically DRUG (literally) throughout the airport because I had no other way of carrying it.  All of those items I had to carry on.  Then I had a suitcase full of our things and a backdrop which I was able to check.  I know I must have been quite a sight!  Quite surprisingly almost no-one offered to help!!!  I was kind of surprised!  It was a fun trip… so glad Grandma will be flying back with us on the way home!
Donny took a few pics for us to laugh about before I left.  These are taken from the little point and shoot…  Honestly the picture doesn't do it justice compared to the sight it was trying to see me carry all this stuff.  I literally had our daughter dangling in my arms!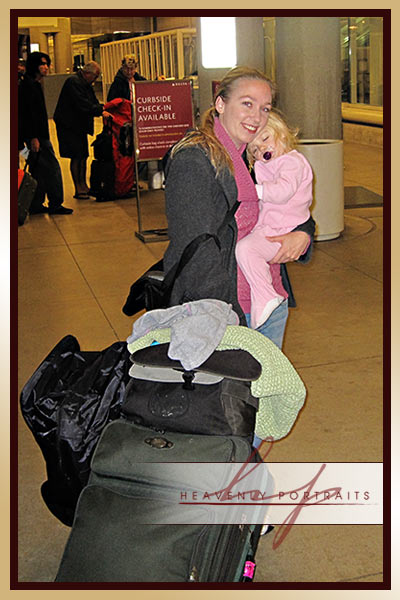 And one of our Little Monkey with her monkey on her first plane ride!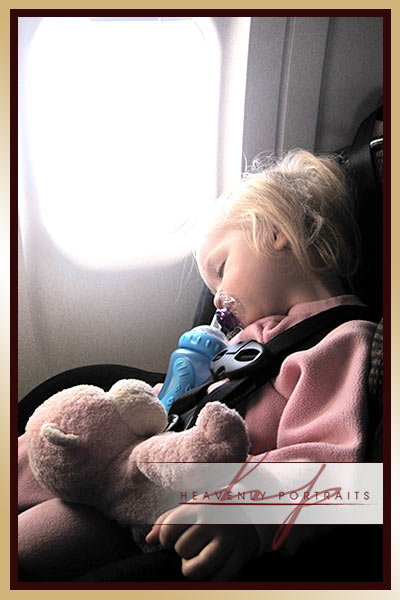 Since we are traveling so much this month, please be patient with us if we are unable to respond to phone calls or emails immediately.