May, 2009
---
As you all know, we are expecting a couple additions to our family…. it seems as though they may be coming early.  We had quite a scare on Friday and Saturday where Holly went into pre-term labor and an emergency c-section seemed imminent…  but, as of this writing (11 pm Sunday night) its looking more hopeful that we can let them bake for a day or two more (and hopefully much longer).  Thank you to everyone who has been praying for us and checking in with us.   We apologize ahead of time for taking a little longer to follow up with phone calls and e-mails.   We are definitely going to be at the hospital all week this week without internet service.   We'll check back in with you as we can.  Thank you for your understanding.
Well, from the picture below, it may not be that big of a surprise what our announcement is!  We are pregnant!!  However, the bigger surprise is that our family will be growing this summer by not just one baby, but two!  Thats right– twinsies!!  We are incredibly grateful and excited!  The past months have been such a whirlwind of trying to get things ready for the kiddos and adjusting to a twin pregnancy (fyi: very different from a singleton pregnancy)!  The picture below was taken about a month ago at only 24 weeks!!  Crazy, huh.  My belly wasn't even that big when I delivered our daughter!  LOL.  Donny and I have been having fun recently and have done a couple photo shoots of my big belly.  Here is just one photo from one of the shoots. Hope to post more soon!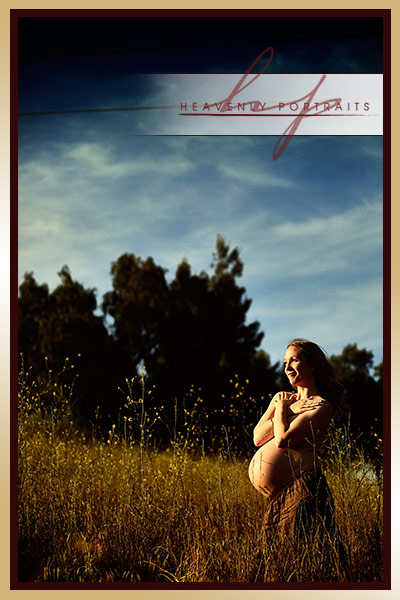 Funny story behind this shot.  We were on a somewhat major street and had pulled aside to get shots in the yellow flowers/weeds.  Donny wasn't really liking the shirt I was wearing and suggested I take it off…. I kinda laugh now, because I normally am pretty conservative on these matters, but… when it comes to cool pictures… the picture wins, right?  — Cars definitely started slowing down!!  LOL…   So moral of the story is that I know we ask a lot of our clients to do funny things and ask that they trust us — we even have to take our own advise sometimes! (Disclaimer:  We generally do not ask clients to take their clothes off

)
We can't wait to share more with all of you as our family grows!  Thanks for being a part of our lives!